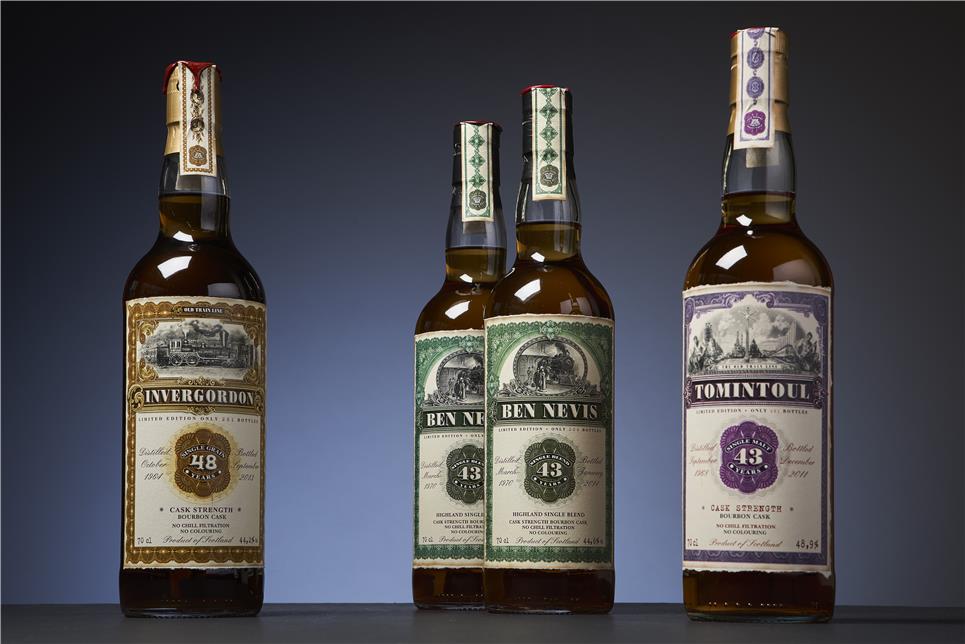 Jack Wiebers 'Old Train Line'
At the end of the 1990's the German whisky importer Lars-Göran Wiebers decided to release his own series of whiskies with exclusive, sourced casks. From this day on 'Jack' has been able to surprise the world of whisky time and again with special and very limited editions of extraordinary bottlings. Jack Wiebers Whisky World is considered by whisky connoisseurs, aficionados and collectors to be one of the best independent bottlers available on the market.

At auction
The bottles offered at auction come from his so-called 'Old Train Line' series. All are cask strength and have matured on Bourbon barrels.

Lot 2940 and 2941 are mixed lots, both including a bottle of 43 year old 'Single Blend' by Ben Nevis. Distilled in March 1970, this whisky is one of only 206 bottles which were bottled by Jack Wiebers in 2014. Only a handful of Scottish distilleries were able to produce this rare 'Single Blend' style in the 1970's.

Lot 2940 is escorted by a bottle of 48 year old Invergordon 'Single Grain' whisky, bottled in a limited number of 261 bottles in 2013. In lot 2941 the previously mentioned Ben Nevis is accompanied with a 43 year old bottle of Tomintoul. The latter was released at the end of 2011 in a very small amount of only 161 bottles in total.