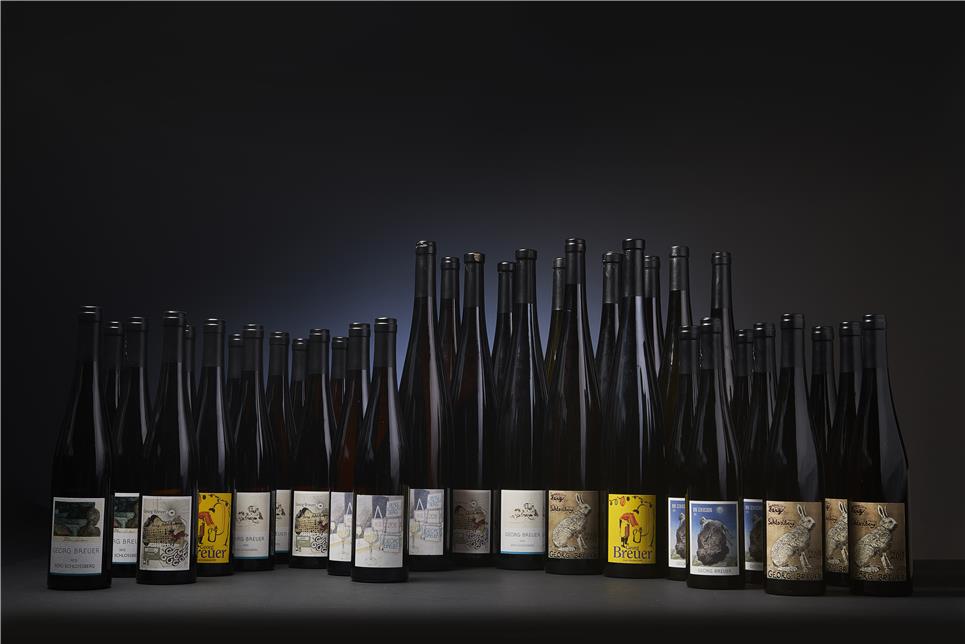 Weingut Georg Breuer, Pioneers in dry Riesling
At the beginning of the twentieth century, Peter Breuer takes over a wine estate in the Rheingau, originally founded in 1880. Passing on to his son Georg, and then in 1978 to grandsons Bernhard and Heinrich, the domain eventually grows to a size of 34 hectares.

The Breuers possess some of the steepest and best drained vineyards in the Rheingau. The four best vineyards are 'Berg Schlossberg', 'Berg Rottland', 'Berg Roseneck' all in Rüdesheim and 'Nonnenberg' as a 'monopole' in Rauenthal.

The vineyards are for 85% planted with Riesling, 10% with Spätburgunder, 5% with Grauburgunder, some Weissburgunder, the extremely rare Orleans and Heunisch (Gouais Blanc).

Since the 1980's Bernhard Breuer has been producing dry Rieslings of such high quality and appealing terroir expression, for which they received tremendous international acclaim. At that time, top quality dry Riesling was a groundbreaking achievement. Before, the assumption was that the best Riesling wines all were on the sweet side of the pallet.

A next step up on the international wine ladder is taken by Theresa, daughter of Bernard, who in 2004, after the sudden death of her father, continues the domain at a young age. In 2006 she switched to organic wine-growing. The Breuers work in an artisanal way in which rigorous selection of grapes lead to intense and wonderfully balanced wines. Theresa uses wild yeast during fermentation and racks the wines for a considerable time in neutral, old oak barrels.

Breuer's dry Rieslings are pure, refined, distinctive with superb mineral tension and extraordinary concentration, with excellent cellaring potential.

At this auction there is plenty of choice in top vineyards of the Breuer family. The best and most comprehensive are the immensely powerful and refined wines of 'Berg Schlossberg', to be found in lots 2749, 2750, 2751 and in magnum format lot 2754.