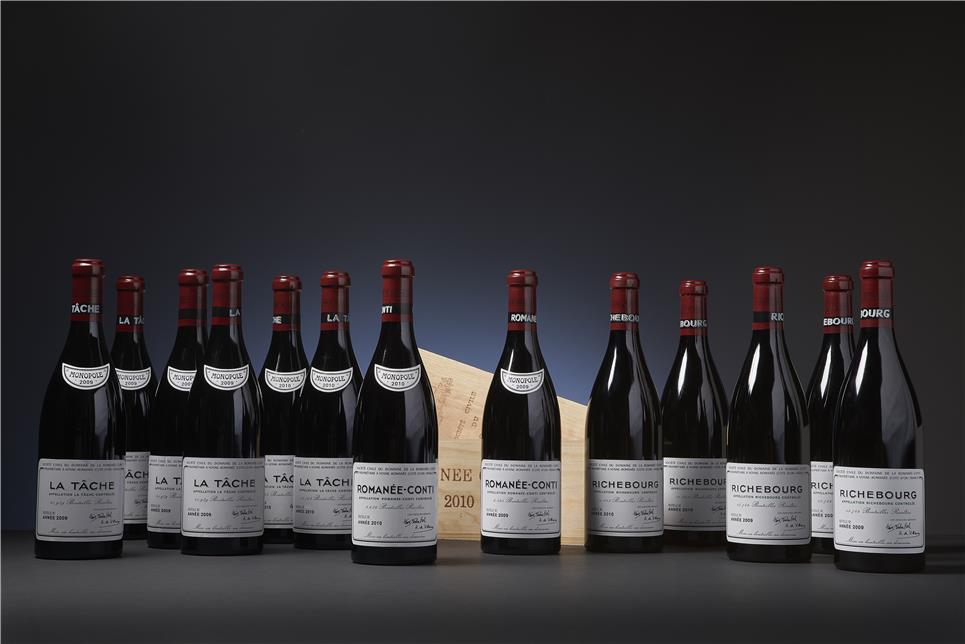 Domaine de la Romanée-Conti, a marriage of satin and velvet
Sylvie's is proud to present a significant selection Domaine de la Romanée-Conti (DRC) from a passionate wine collector (lots 648 to 691). This first owner bought all wines directly on allocation and always kept them in the same perfectly temperature controlled cellar.
The Montrachet 2008 (lot 688) captures the imagination, with the possibility of aging for decades more to come.
Of the Romanée-Conti monopole, there are impressive vintages available, such as 2009 (lot 682) and 2010 (lot 683), as well as the La Tâche with 2009 (lot 674) and 2010 (lot 675).
For wine lovers, and Burgundy aficionados in particular, Domaine de la Romanée-Conti has an absolutely mythical status. Because of their rareness and glorious reputation, the wines rank among the most desirable and most expensive in the world. To put its uniqueness into context: depending on the vintage, only between 3.000 and 7.000 bottles are produced annually from the flagship Romanée-Conti and a mere 3.000 to 4.000 bottles of the majestic Montrachet.
The foundation of the undisputed quality lies in the vineyard. They have been cultivated entirely according to biodynamic principles since 2007: with organic fertilization and tillage using horses in order not to disturb the structure of the soil as much. New vines come from DRC's own vineyards and are grafted on the best roots. The rigorous yield control results in wines with a remarkable concentration. The wines are vinified traditionally, mostly using whole bunch fermentation.
The resulting wines have a remarkable intensity and enormous depth, with gracious acidity, delicately polished tannins and an exceptional ageing potential. After decades, the wines lose their young, occasionally angular shyness and transform into lush, seductive, silky and ripe 'aristocrats'. For co-owner and (before his retirement) co-director of DRC, Aubert de Villaine, terroir is everything.
Apart from one premier cru, the domain exclusively produces Grand Cru's: rigorous and serious Corton, fine and succulent Echezeaux, muscular Grands Echezeaux, elegant and intellectual Romanée-Saint-Vivant, sumptuous Richebourg, extravagant La Tâche, fabulous Romanée-Conti as a quintessence of refinement and sophistication, the grand Montrachet and even a Bâtard-Montrachet for personal consumption on the domain. The Vosne-Romanée 1er cru Cuvée Duvault-Blochet is a blend of the fruit of the youngest vines of the 6 local Grand Crus.
The wines can be illustrated using a kaleidoscope of expressions such as: violets, rose petals, cinnamon, liquorice, small red and dark fruits, musk, soy, truffle and typically show a lush richness when tasting.
Roald Dahl portrayed DRC as following:
"Sense for me this perfume! Breathe this bouquet! Taste it! Drink it! But never try to describe it! Impossible to give an account of such a delicacy with words! To drink Romanée-Conti is equivalent to experiencing an orgasm at once in the mouth and in the nose."