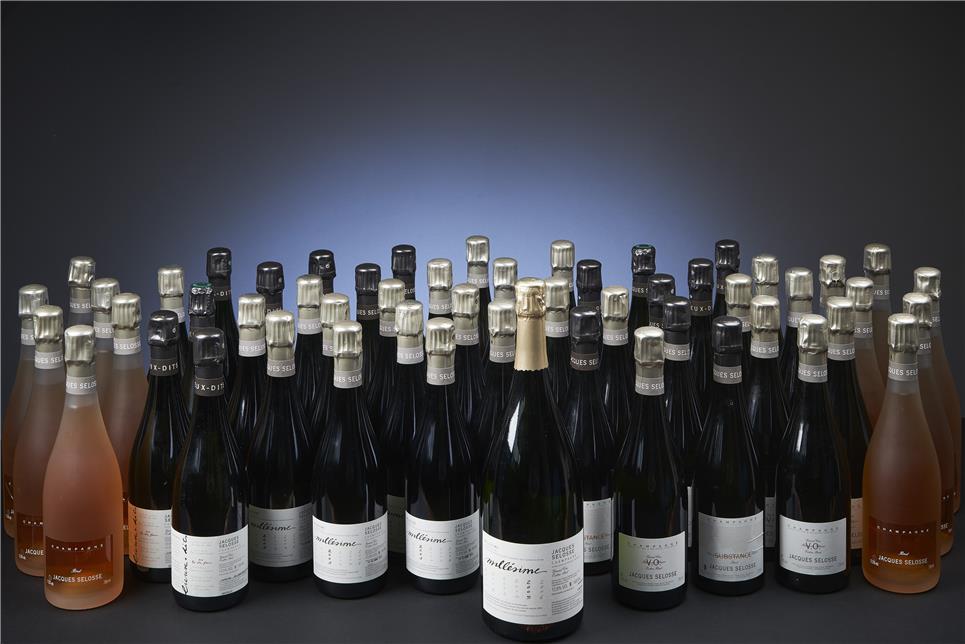 Jacques Selosse - From cult to classic
During the 50's Jacques Selosse in Avize and surrounding municipalities farms chardonnay and pinot noir grapes, which he sells to champagne maker Lanson. His son Anselme in the 70's learns from winemakers in Burgundy and brings knowledge and skills back home. At that time in Burgundy a true revolution is taking place: small producers start to bottle and sell their own wines, to ensure optimal expression of their terroir.
From 1980 Anselme takes the helm from his father completely and immediately applies what he has learned during his stay in Burgundy: he stops selling grapes and as one of the first smaller farmers in Champagne he starts to bottle his own wines. Hence the revolution of the 'grower Champagne' is a fact.
He also resolutely chooses to farm biological with low yields, unheard of in Champagne at the time. Anselme sees himself primarily as a farmer who should take care of the land and first after as a winemaker. A healthy soil brings healthy grapes, delivering the best possible wines.
He is also one of the first to separately vinify grand cru parcels owned by the domain. Today common practice, but in the 80's and 90's Anselme is greeted with laughter by his colleagues. We now know who was right in the end.
The Initial, Version Originale ('V.O.') and Exquise cuvees are made based on 3 consecutive vintages and chardonnay grapes from Côte de Blancs (Cramant, Avize en Oger). The Initial and V.O. get a low dosage – less than 5 grams of sugar per liter – where the Exquise as only wine of this domain gets a higher dosage of 24 grams per liter. The V.O. receives a somewhat longer maturation: at least 42 months on lees compared to a minimum of 36 months for the Initial and Exquise.
From 1986 Anselme started a solera system for his cuvee Origine, now known as Substance. The idea is to show the character of the wines from Avize without vintages having a large influence. Every year the solera system is replenished with new wine, after part of the solera has been bottled. Each bottle of Substance thus contains a (small) part of all vintages since the start in 1986 !
"[…] the Substance (deg. 2019) continues to show extraordinarily well, bursting from the glass with aromas of honeyed pears, buttered toast, candied peel, fenugreek and almond paste. Full-bodied, textural and enveloping, it's vinous, concentrated and sapid, marrying to remarkable effect the unique patina imparted by Selosse's distinctive winemaking practices with the powerful yet incisive profile that defines Avize." 100/100, William Kelly for The Wine Advocate ('Parker').
Do the wines of Selosse at the end of the 20th century have a cult status, today they have become true classics, praised and sought after by many winelovers. You may look forward to our October auction, where we offer a whopping 165 bottles of Selosse, spread over 47 lots (608 – 654) !