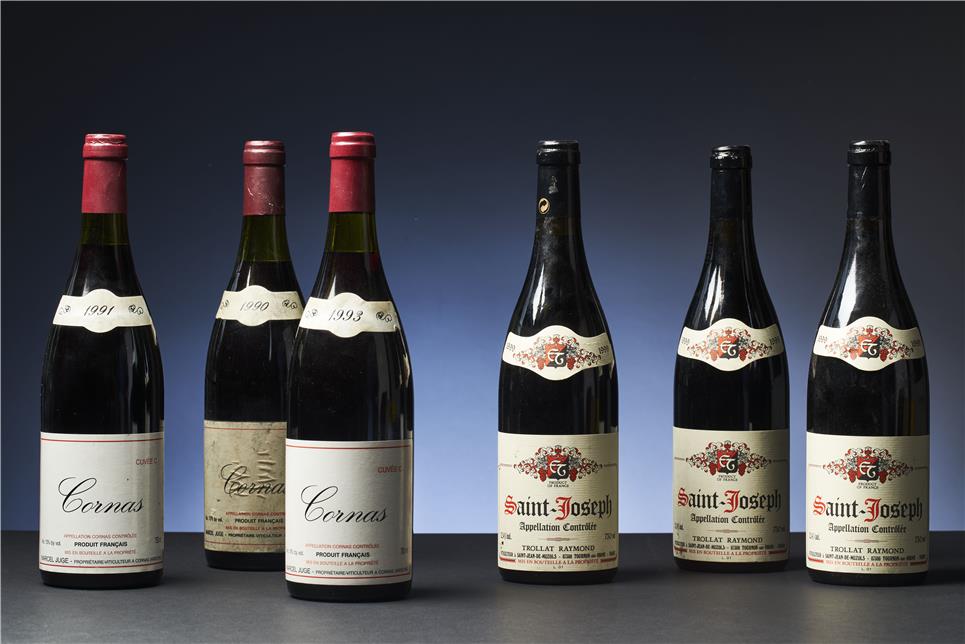 The Old Guard of the Northern Rhone
Cornas
The Cornas is an old wine region that enjoys great name and fame from the 10th century. Cornas means burnt earth in ancient Celtic. Due to its location, it is often the first harvested red wine of the Northern Rhône. Due to urbanization and phylloxera, it has suffered a lot, but is experiencing a revival from the 1980s thanks to the efforts of talented winemakers.
Marcel Juge and Raymond Trollat
In the June auction you will find some rare pearls from the Northern Rhône, including 1990, 1991 and 1993 Cornas 'Cuvée C' by Marcel Juge (lot 2682-2684) and 1999 Saint-Joseph by Raymond Trollat ​​(lot 2713).
Marcel Juge is known for a soft rusticity in his wines: lots of earthy, peppery, fleshy, mineral notes buried in a core of deep black fruit.
"[Marcel Juge's] wines are by far the most elegant and Burgundy-like in Cornas…" – Robert M. Parker, The Wines of the Rhône Valley
Trollat ​​has remained under the radar for a long time but deserves as much credit as more famous representatives from the Cornas. Until 2005, on the granite slopes, he worked the old canes planted by his grandfather. Raymond's wines are pure, rustic and lively expressions of Syrah that are now respected and highly sought after. Since then, the old vineyards have been owned by the brothers Pierre and Jean Gonon, who rule the new wine scepter with verve.
Both Juge and Trollat ​​are rare standard-bearers of the older vintages of their appellation and we are pleased to present them to you.