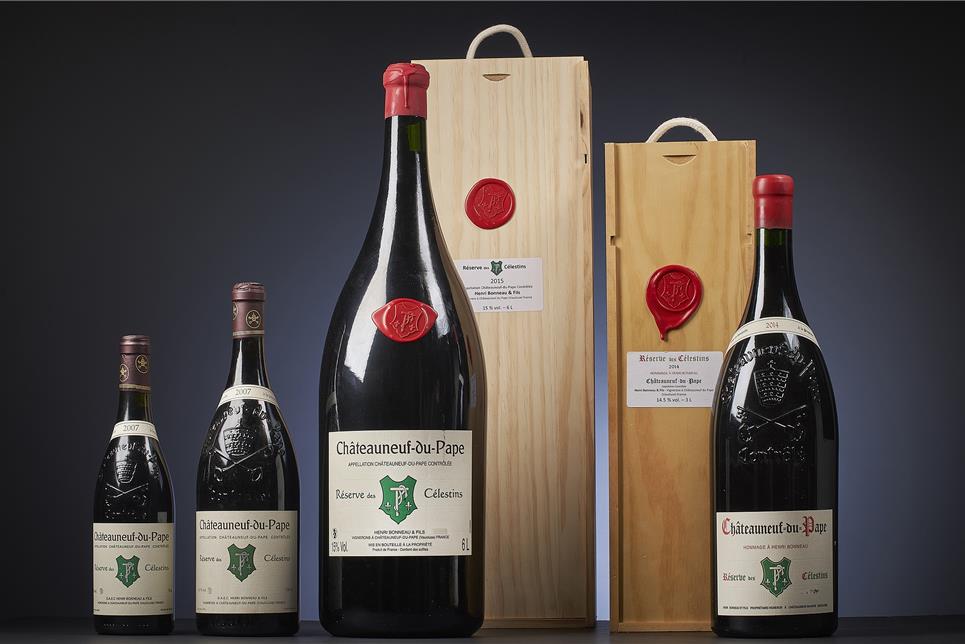 Henri Bonneau – Châteauneuf-du-Pape 'Réserve des Célestins'
In October 2022 we were already able to offer you a nice selection of bottles of 'Réserve des Célestins', but now we are completely delighted because this tome we can also present exceptional large formats!
This top cuvée from Henri Bonneau - who passed away in 2016 - needs no introduction for the real wine connoisseurs, this is Grenache-dominated Châteauneuf-du-Pape through and through! In lots 3140 to 3154 you will find no less than 104 bottles, including original boxes of 12 pieces. This is followed by 24 magnums in lots 3155 – 3165, followed by 2 double magnums (lots 3167 and 3168) and the unique 6 liter bottles of which only a few have been bottled! These can be found in lots 3169, 3170 and 3171.
"Looking at the barrels designated for the 2015 Châteauneuf du Pape Reserve Célestins, which always comes from the famed la Crau lieu-dit, it offers a big, mouth-filling, chewy profile as well as classic dark fruits, garrigue, pot roast, pepper and cured meats aromas and flavors. It has lots of tannin, but everything is perfectly ripe, and this is a sensational looking effort. It's worth noting that this will be the last wine ever vinified by Henri, and it certainly looks to be a fitting tribute to an incredible winemaker." – (95-97)/100, Jeb Dunnuck, The Wine Advocate