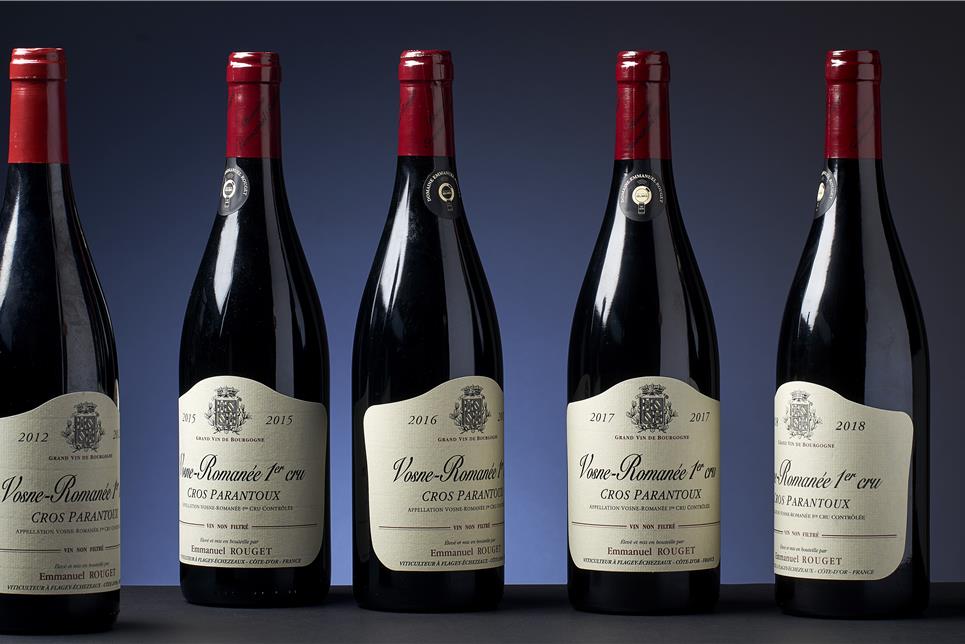 Emmanuel Rouget – Vosne-Romanée 'Cros Parantoux' Premier Cru
Who says 'Cros Parantoux', says Henri Jayer…and so begins the story of this mythical premier cru in Vosne-Romanée.
The legendary Henri Jayer recognized the potential of this dilapidated piece of vineyard in the early 1950s, just above the grand cru 'Richebourg'. After the phylloxera plague at the end of the 19th century, this difficult-to-work piece of land is even used for growing Jerusalem artichokes!
Fortunately, in 1951 Henri Jayer sees the potential of this derelict piece of land and in 1953 he starts replanting vines. Over the years, he systematically acquires more and more pieces of the 'Cros Parantoux' to eventually own a good 0.7 hectares of the approximately 1 hectare.
From 1985 Henri Jayer takes his cousin Emmanuel Rouget under the arm to ensure the succession of the domain, his daughters show no interest. In the beginning Henri leases a few sticks to Emmanuel and in 1989 he also starts bottling a 'Cros Parantoux' under his own name.
Like his uncle, Emmanuel works the vineyard according to organic principles, without the use of chemicals and with respect for the unique terroir: a shallow rocky soil with a south-east orientation, which is noticeably cooler than surrounding vineyards.
This philosophy has been continued since 2011 by Nicolas and Guillaume, Emmanuel's sons. Under the watchful eye of father Emmanuel, the new generation ensures that this widely acclaimed vineyard maintains its legendary status and grows even more into one of the most sought-after wines in the world! We are therefore delighted to once again be able to offer you this top wine in our December auction. You will find the wines of Emmanuel Rouget in lots 1312 to 1327 including 5 bottles of 'Cros Parantoux' in lots 1319-1323!
"The 2015 Vosne-Romanée Cros Parantoux 1er Cru is a wine that I fell head over heels for in barrel. It is limpid in color and extraordinarily intense on the nose, embracing that summer's warmth without denuding it of precision or terroir expression, and delivering plush blueberry, raspberry coulis and emerging touches of iodine. This Cros Parantoux is just revving its engine. The palate is beautifully balanced with sappy red fruit and impressive depth. It still needs a couple of years to fully integrate, but you must stand back and admire its persistence. Huge potential. Tasted blind at Maison de Colombier in Beaune. Drink 2022-2050." – 98/100, Neil Martin, Vinous