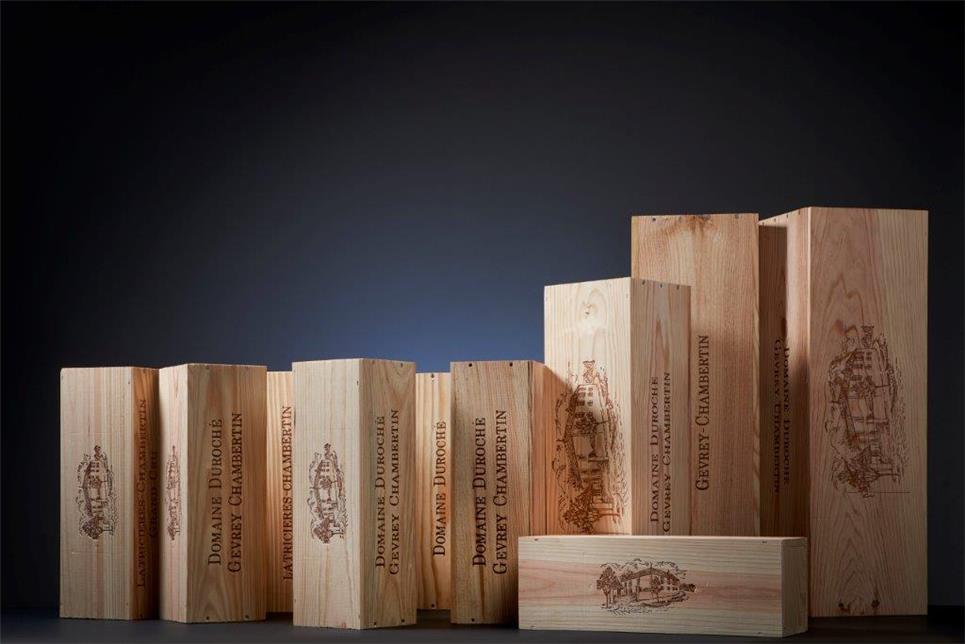 Straight from the domain's cellars!
We are particularly proud to offer a number of lots directly from the Domaine Duroché cellars!
And not the least... we have 1 magnum Griotte-Chambertin, 6 magnums Latricières-Chambertin, a jeroboam (3 litres) Chambertin 'Clos de Bèze' & 2 methusalems (6 litres) Gevrey-Chambertin 'Lavaut Saint Jacques'.
Domaine Duroché has deep roots in Gevrey-Chambertin, where the family has been making wine for five generations. Since 2005 Pierre Duroché is the driving force behind the domain that he took over from his father Gilles. He owns about 8.5 hectares in the best appellations all around the village of Gevrey-Chambertin, which are cultivated with the greatest care. Pierre, together with his wife Marianne, makes wines that focus on finesse, elegance and balance. This is only possible thanks to the exceptional attention Pierre pays to all details, both in the vineyard and in the cellar.
The vineyards are cultivated without chemical pesticides and the greatest care is taken with the exceptionally old vines at the domain: some of them are more than 100 years old! Only endogenous yeasts are used in vinification, there is no sulphitation and the wines are aged in older oak barrels to keep them pure and elegant.
All the wines are therefore an exceptional expression of the terroir from which they originate, from the villages wines to the grand cru wines. And this does not go unnoticed by wine lovers from all over the world... the wines of Pierre & Marianne are highly sought after and the scores of the wine critics seem to increase year after year.
In lot 1458 you will find a vertical Latricières-Chambertin, from 2014 to 2019, bottled in magnum. The circulation is always very limited, between 300 and 600 bottles per year. In 2016 and 2019, the circulation was bottled entirely in magnums, 150 to be exact.
"A magical young wine, the 2019 Latricières-Chambertin Grand Cru wafts from the glass with scents of peonies, sweet red berries, plums, exotic spices and licorice. Medium to full-bodied, supple and melting, its satiny attack segues into an ample, enveloping core of succulent, perfumed fruit framed by powdery tannins and girdled by lively acids. The 2019 unites the immense charm of the 2017 vintage with the depth and concentration of 2015 in an irresistible combination. It hasn't yet shut down after bottling, and I'm not sure it ever will."- 97/100, William Kelley, The Wine Advocate
Lot 1459 brings us a Jeroboam 2019 Chambertin 'Clos de Bèze' from vines planted in 1920. Only 15 Jeroboams of this wine were bottled.
"This high density planting, which dates back to 1920 has yielded 4 barrels. Classical imperial purple. The bouquet is wonderfully deep and harmonious, this is so perfectly proportioned on the palate, with a little lick of oak, which is entirely in place, a light, but fresh acidity, a sense of harmony throughout and a deepening of the fruit on the second half of the palate which brings it to a glorious conclusion." – (97-99)/100, Jasper Morris MW, Inside Burgundy
Lot 1460 & 1461 each contain 1 Methusalem Gevrey-Chambertin 'Lavaut Saint Jacques', 2017 and 2019 respectively, which were never commercialised!

Lot 1462 contains 1 magnum 2019 Griotte-Chambertin. This wine is available on a very limited basis, given its minuscule total yield of 86 litres. The vines of the domain are just under 100 years old, planted in 1923, and produce an exquisite Burgundy.
"The grapes have had their main stems snipped out by hand. 85 litres made. Don't all shout at once. Glowing purple. Wow! The nose leaps out of the glass over and above anything, which has gone before. Hedonism personified. Such a thick texture to the fruit, while remaining entirely fresh and racy, just at a multiplied level."- (97-100)/100, Jasper Morris MW, Inside Burgundy